Art & Basketball: Fan of the Year
This tattoo is a huge move for someone that's been a fan of WNBA basketball for less than two years
After a relocation and rebranding, the Las Vegas Aces made their postseason debut during the 2019 WNBA season. Enjoying a season of a few ups and downs, none probably could top the feeling of arguably the biggest shot in the franchise's short history in the desert.
By now, you probably have Dearica Hamby's huge half court shot, affectionately dubbed the "Hamby Heave," embedded in your mind. It's also possible that you're vividly able to remember your exact reaction when it all went down. If you were anywhere near social media, you were able to share in the fun by scrolling through the flood of OMGs, WTFs, etc. For one Aces fan, let's just say – he has a quite different view.
Trevor La Porte's view of that shot is a special one. Before I get into specifics, let me inform you that he's actually a new fan. La Porte became a fan of the WNBA really by a gift from work. When the San Antonio franchise was sold to MGM Resorts International and relocated to Las Vegas, many were interested to see how the team would fare in a city known for its larger than life entertainment.
Professional sports teams are moving to Las Vegas and they're thriving. As with any show or business embarking on new territory, there are a plethora of giveaways for promo in order to create awareness along with building an audience for support. La Porte's job obtained some of those tickets, and he secured some during his employer's office giveaway. After the initial "Really, The WNBA?" wore off, he decided to attend a game for the Aces' first season in Vegas. That was literally all it took. Since attending, he's been hooked ever since. He has ramped up his Aces support, been a continuous presence at the Mandalay Bay Events Center, and will be a season ticket holder for 2020.
Okay. So let's go back and talk about his view. Remember the shot I referenced at the beginning? The steal then panic heave with ample time still left on the clock? The one that secured the Aces their first playoff victory? That's what he will see every day. Not because he's watching clips of the game, but because of something much deeper (no pun intended). Trevor decided to take that particular moment and keep it near him forever – as a tattoo.
SB Nation's Matt Ellentuck took to Twitter with a pic of the shot and posting it with "tag yourself" as the caption. I scanned and found someone in the crowd that displayed my reaction. There were several I felt would be good choices. La Porte, being present in the crowd for the game, found himself in the sea of fans during that moment.
https://twitter.com/mellentuck/status/1173402340268924928?s=21
Kenneth Marañon, a local tattoo artist at Beloved Family Tattoo Studio, posted a promo sale for his artwork. La Porte responded with posted his own tweet and asked, "Who wants to let me borrow $250 so I can get @dearicamarie's shot tattooed on me? @LVAces" What started out as possibly just a joke quickly grew into something very real. Hamby, who couldn't be there for the actual ink session, noticed the tweet and volunteered to pay for the artwork. The appointment was booked. The sketch was done. Fast forward, and it's now official.
https://twitter.com/vgktre/status/1173402801264676865?s=21
This tattoo is a huge move for someone that's been a fan of WNBA basketball for less than two years. When speaking with La Porte, it was the personable approach by the league and his interaction with its athletes that made this even more of a sweet occasion. Several of those interactions even previously involved Hamby.
The Aces have been known to up the ante a bit when it comes to fan experience and marketing. Did you attend WNBA All-Star? If so, or even if not, I'm sure you've heard about it. Fans regularly hang out in the fan zones and have a chance to mix and mingle with team representatives and even players occasionally. Previously supporting a blood drive hosted by the Aces, La Porte had an encounter with a couple of Aces players. Not sure how to interact with Hamby, he opted to keep it very cool initially. Noticing the hesitation, Hamby uttered, "You can give me a hug!" The ice was broken. They shared pleasantries and snapped a few pics with Syd Colson eventually joining the party.
That generosity extends throughout the league. Before a game when the Mercury came to town, La Porte was in for another treat as Brittney Griner offered to take pics and even gave him birthday wishes. These are the interactions that enable the WNBA athletes and their personalities the opportunity to shine. They understand that relationships with fans and the community matter and it's embraced.
Why choose to get the tattoo of Hamby? He said, "She's a game wrecker. She comes in and does anything she needs to do to win. She checks in and checks out, sits down, and will come back to do it all over again. She does that every game." That selflessness is what La Porte appreciates. While maybe not the most heralded player on a team of "superstars" of varying experiences, he loves that Hamby is now getting the attention and respect that she deserves. Ironically Hamby was announced as the 2019 Sixth Woman of the Year earlier that day before the game. She showed just why she's that good of a player – whether on the bench or starting. "Hard work and grit. I love her interactions, and she's such a good person," is how he further described her.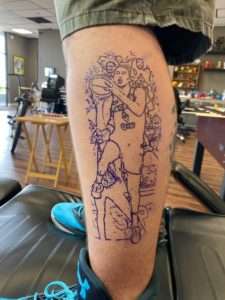 The tattoo is now dry, and it's had a moment to really sink in. He's aware that there could be some negative comments, but acknowledges they're "not from anybody that matters." In regards to the conversation that will inevitably surround the tattoo? The plan is to use it to help with exposure for the league and spread the news of the deserving athletes. He loves what the Aces organization is doing around the city and enjoys seeing the images of Aces players on public transportation, newsstands around the city, or even when checking in to your hotel. However, he recognizes that not all teams are as fortunate. He's happy to be in a city that embraces a team with so much promise and is fun to watch on the court.
I've reviewed Hamby's social media, and I think it's safe to say she loves the finished product. La Porte is happy how things turned out, and there are plans to potentially add more to it in the future. In regards to his overall feelings of the tattoo, he said, "it's an honor to wear one of the greatest shots ever – forever." With that shot, the Aces would advance to the semifinals where they'd lose the series 3-1 to the eventual WNBA Champions, the Washington Mystics.
https://twitter.com/dearicamarie/status/1186015770750476288
He wasn't shy to celebrate the success of the team in just their second season. Our convo concluded with his message of support to Hamby and the Aces of, "Let's run it back next year and play longer in order to get that ring."
WNBA fans are passionate and aren't afraid to show it. The players appreciate it, and the fans continue to keep it coming. Art and sports both have a way of connecting strangers. With this latest display, Trevor and Dearica seem to be connected for a mighty long time.
Profile photo via: (L.E. Baskow/Las Vegas Review-Journal) @Left_Eye_Imag