Phoenix Mercury Honor Women of Inspiration Through Custom Sneakers
Diana Taurasi's custom sneakers feature Evita Perón and Ruth Bader Ginsburg, plus more by the Phoenix Mercury.
Throughout the past decade, the Phoenix Mercury have honored some of the most accomplished and groundbreaking female figures from the worlds of business, sports, politics and beyond during their annual Woman Of Inspiration Night.
Past honorees have included the likes of Robin Roberts, Jackie Joyner-Kersee, Mo'ne Davis and Holly Rowe. On Tuesday, new WNBA commissioner Cathy Engelbert will be the latest of a list of diverse women to be honored for her trailblazing business career.
"More than any other league, ours is about more than just the game we are playing," said Vince Kozar, Mercury COO. "It's about diversity, inclusion, widening the circle of acceptance and participation, and uplifting the stories of women who are doing great things on and off the court."
For the first time, the team will be taking things a step further, as each Mercury player plans to acknowledge and highlight the women who have inspired her journey, through a series of specially designed, custom, hand-painted sneakers. According to Kozar, the genesis of the concept was borrowed from the pitch and another set of inspirational female athletes.
"I was blown away by the US Women's National Soccer Team this past year wearing jerseys with the names of women who have inspired them on the back," he said. "We know the women of the WNBA inspire the next generation every day, but I don't think here in Phoenix we've ever given our players a platform to talk about the women who inspire them."

Rather than replicate the jersey idea, the franchise tapped local artist Zoe Ruff, who has worked on custom sneakers under the "Ruff Customs" name for Phoenix Suns and Mercury players in recent years and began customizing her own shoes in middle school.
The project has been in the works for months, as Ruff, a 23-year-old former high school player from the Phoenix area, began working on the "Women of Inspiration" shoes in May. Players provided pairs of the shoes they wanted painted and submitted a list of the women, insights, details and quotes that have inspired them. Ruff spent around five hours on the detailed artwork atop each pair, and the shoes were given to the players this weekend.
"Being able to help them express who they are through what's important to them — their kids or the place they grew up or a musical artist or a civil rights leader or a Supreme Court justice — that is an incredible way to storytell," Kozar said.
Every player on the Mercury squad wears Nike sneakers, though the designs of the signature shoes and Hyperdunks took on a variety of depth and storytelling. While the NBA only last season lifted its longtime footwear color restrictions, the WNBA has long been a leader in that space, having encouraged its players for several seasons to go as loud and bright as they'd like.
"I love that the medium we are using is shoes," Kozar said. "A lot of times, those are pretty personal to a player and, frankly, their biggest form of self-expression on the court — their shoe game."

Diana Taurasi – Nike LeBron 16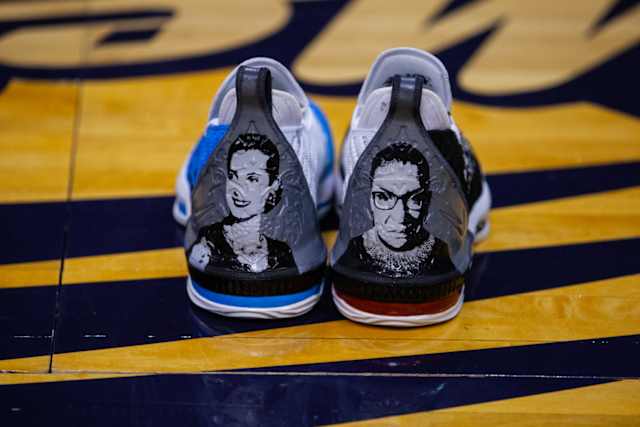 Longtime franchise icon Diana Taurasi has helped to lead LeBron James' sneaker series in the W over the past decade, with a rotation of player-exclusive pairs on hand. Her inspired custom pair pays tribute to two pioneering women she has long admired, with portraits of each featured along the heel.

Ruth Bader Ginsburg (right), the second female U.S. Supreme Court justice, has pushed for the advancement of women's rights and gender equality throughout her career. Evita Perón, the first lady of Argentina from 1946 to 1952, is highlighted for her impact on the women's suffrage movement. Her forming of the Female Peronist Party, the first female political party in the nation, is credited by many with leading women to gain the right to vote in the country.

Brittney Griner – Nike Kyrie 5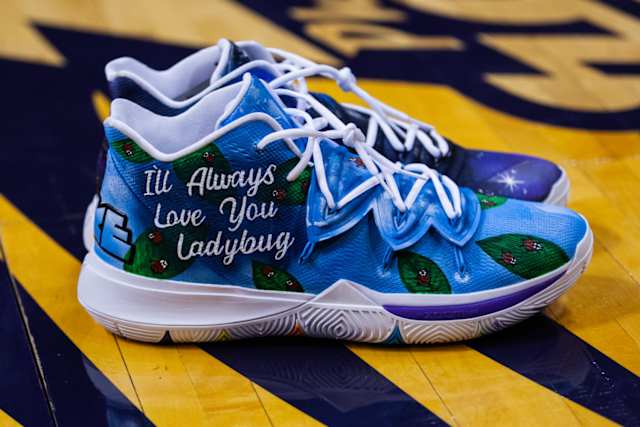 The starting point of Brittney Griner's mismatched pair was her mom and the two encouraging phrases she often heard growing up. Griner was dubbed "Ladybug" by her mother years ago, and the right shoe features a sky blue base and ladybugs crawling on leaves throughout the upper. The opposite shoe pulls from her mom's saying, "I love you to the moon and back," with the quote, a moon crater and a starry space graphic making up the left shoe.

Briann January – Nike Kobe 4 Protro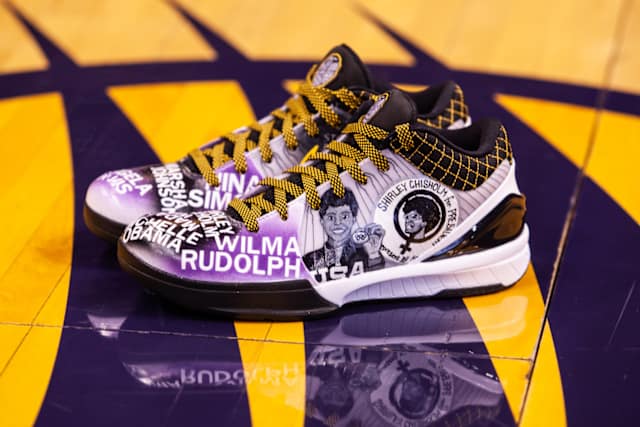 For All-Defensive team mainstay Briann January, a variety of impactful women, including Maya Angelou, Michelle Obama and Wilma Rudolph, are highlighted along the purple toe box of her retro Kobe sneakers.

Along the main panel, a portrait depicts Shirley Chisholm, who in 1968 became the first African American woman elected to the U.S. Congress. Four years later, she became the first woman to run for president in one of the two major parties, and January's pair features Chisholm's official presidential campaign artwork.

"I'm, like, speechless right now," January said upon receiving the shoes. "All these women, they were phenomenal in their own right. Through their own channels, they pushed for better."

Camille Little – Nike LeBron 16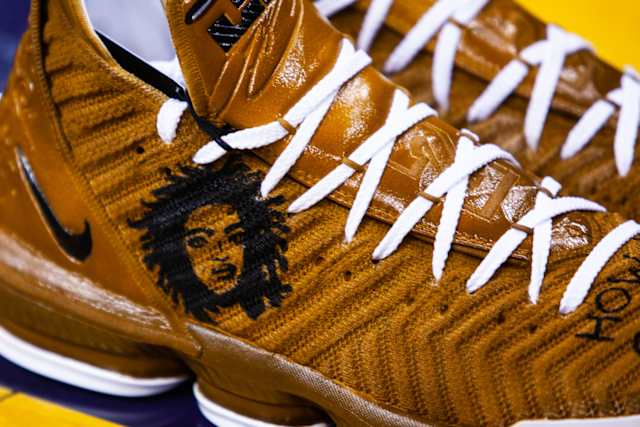 As she looks forward to closing the final season of her 13-year career, Camille Little looked to a musician as her woman of inspiration, leaning on one of her favorite classic albums, "The Miseducation of Lauryn Hill." Her favorite verse – "How you gonna win when you ain't right within" – can be seen along the toe of her brown-based LeBron sneakers, and a portrait from the cover artwork depicts Hill on the side of each shoe.

DeWanna Bonner – Nike LeBron 16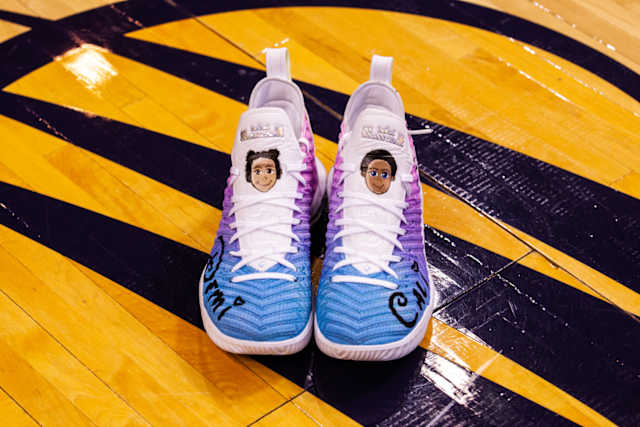 DeWanna Bonner's twin daughters fueled her custom pair, with the names of both Demi and Cali seen along each toe — in Disney font no less. The blue to purple gradient upper is contrasted by a white tongue, where caricatures of the girls' faces can be seen. Bonner's young twins were on hand when she received her sneakers, which made for a family moment they'll cherish for years.

Essence Carson – Nike Kobe 4 Protro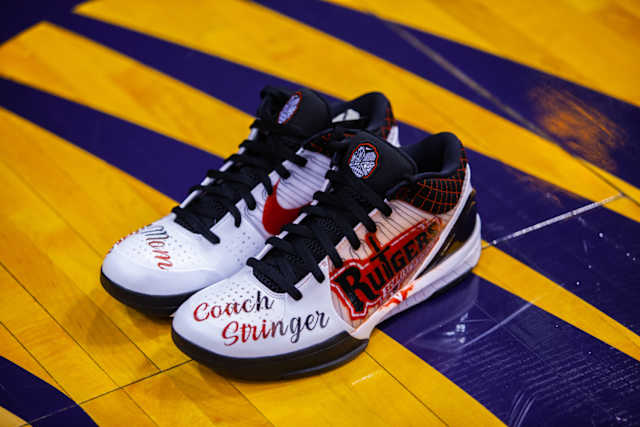 Essence Carson opted for a Kobe 4 Protro, with the sizable toe real estate honoring three of the women who have inspired her: her mom, her grandma and her college coach, Vivian Stringer. Styled in a Rutgers colorway, the shoe celebrates the Hall of Fame coach's achievement as the first African American college basketball coach to win 1,000 games.

Leilani Mitchell – Nike Hyperdunk X Low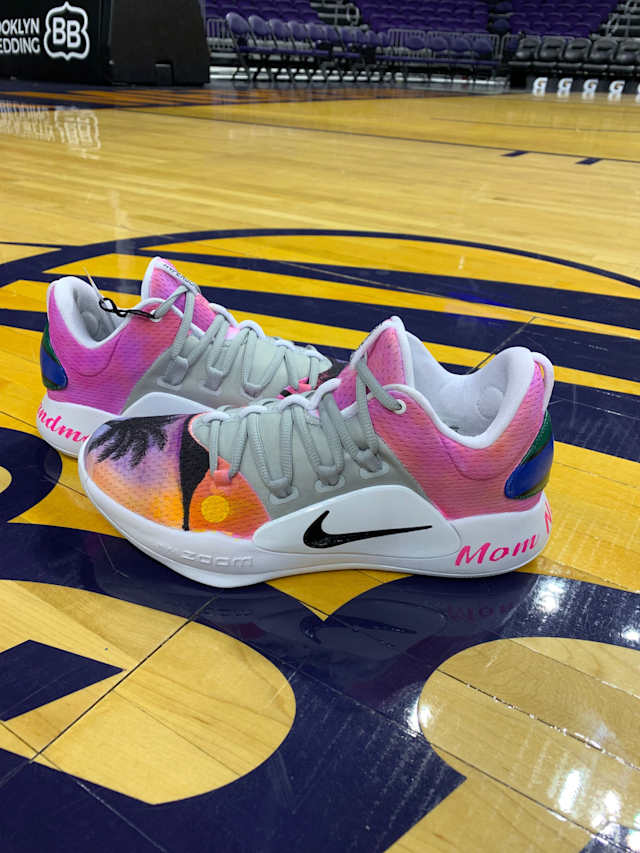 Set along a beach background paying tribute to her native Australian island of Torres, Leilani Mitchell's custom low-top Hyperdunks honor the women in her family who have inspired her over the years: Nana, Grandma and Mom. The island's flag can be found along the heel, and a fading sunset makes up the main artwork of the shoe.

Sancho Lyttle – Nike Hyperdunk X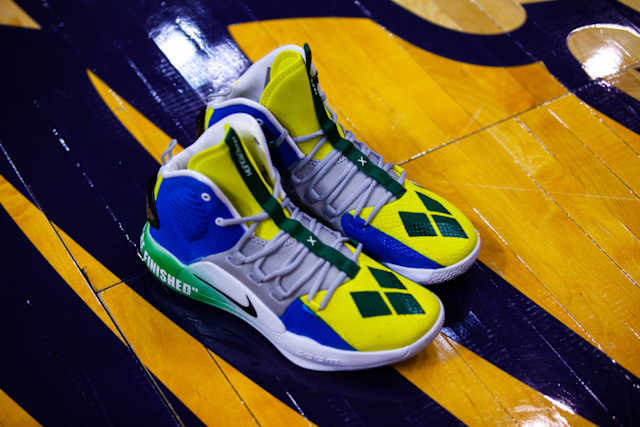 Family and foundation helped to inform Sancho Lyttle's Hyperdunks. Her mother and grandma served as inspiration, with the colors of their native Saint Vincent and the Grenadines flag seen throughout the shoe. Along each heel is Lyttle's mom's constant reminder, "Don't give up until you're finished," with the logo of Lyttle's favorite superhero, Wonder Woman, accented in gold just above.

Brianna Turner – Nike Kyrie 5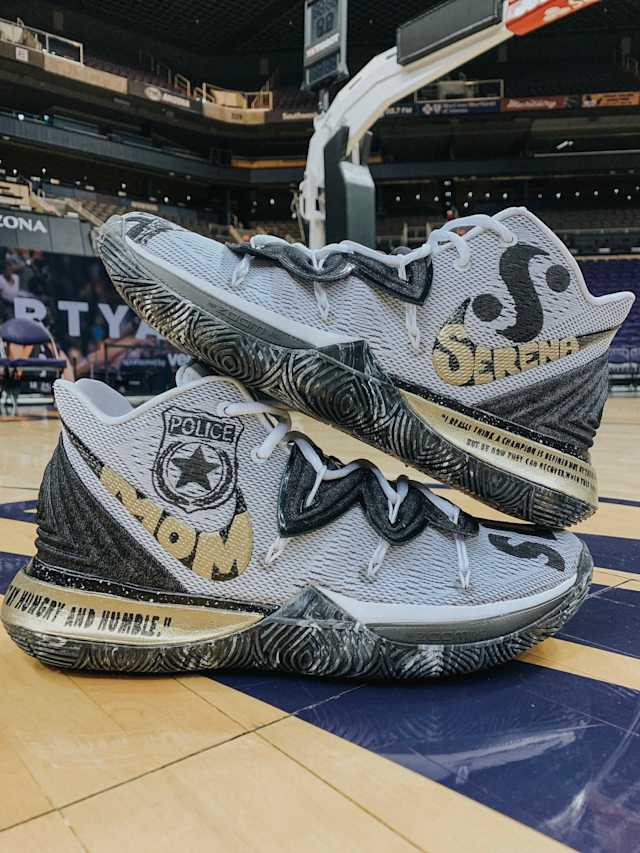 Although some players opted for louder and more vibrant colors, Brianna Turner chose a simpler black-and-white approach, with championship gold accents, to honor two women she has long admired.

"Mom" and "Serena" can be spotted inside each Swoosh logo, with a police badge on the right collar celebrating Turner's mother's career in the justice system. Turner's mother's nickname for her, "SLIM," is prominently placed atop the right toe. The tennis icon's logo is incorporated just above the left Swoosh, and a portrait of her is painted along the toe.

Quotes from each can be seen along the gold-painted heel. "Stay hungry and humble," a guiding line from Turner's mom, sits opposite her favorite Serena Williams quote: "I really think a champion is defined not by their wins but by how they can recover when they fall."

Sophie Cunningham – Nike Hyperdunk X Low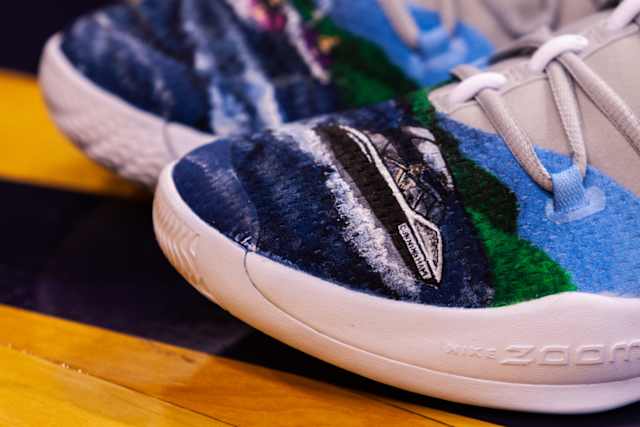 Mercury rookie Sophie Cunningham's custom Hyperdunks honor all of the women in her family and her childhood growing up in Columbia, Missouri. A lake scene featuring the Cunninghams' nearby dock, jet skis and boat reminds Cunningham of her family's favorite memories. The names and nicknames Maggie, Lindsey, Stacey, Mom and Mama can be seen wrapping around the shoe's collar in the clouds of the lake.

Source: Nick DePaula, ESPN